Our Brazilian Jiu Jitsu Classes Offer The Best Grappling Skills For Any Situation
At Foo Dogs Martial Arts Academy, we're proud to offer men and women across Hesperia access to professional Brazilian Jiu Jiu training - regardless of your experience level. Learn the ins and outs of ground grappling and master the skill with the help of our dedicated team.
Our BJJ classes offer you an incredible way to stay in shape. And did we mention...they're completely free of charge!
That's right, for kids or adults, you pay nothing. Fill out the short form on your screen to get started.
The Best Brazilian Jiu Jitsu For Fighters Of Any Ability
BJJ has grown like crazy in the last few years, with classes offered in gyms all across the country. But at Foo Dogs Martial Arts Academy, we don't think it's enough to simply offer these classes as an option, we want you to learn from them.
That's why we work with the most experienced BJJ instructors in the area to rotate classes and bring our members high-level coaching that is perfect for all experience levels. With us, you can scale every movement and build your skills one step at a time. Before you know it, you'll be ready for the competition setting or any threat that comes your way.
Join us in Hesperia and learn:
Effective throws and takedowns
Leverage and control from the ground
Powerful locks, chokes, and holds
Submissions strategies from any position
PLUS, The Physical Benefits Are Incredible
Brazilian Jiu Jitsu is truly a total-body effort. You work every muscle in your body trying to gain leverage over an opponent and work towards a submission.
And because no two classes are the same, you'll never have to worry about the dreaded plateau. Our team in Hesperia will keep your body guessing week in and week out, helping you see sustainable results for years to come.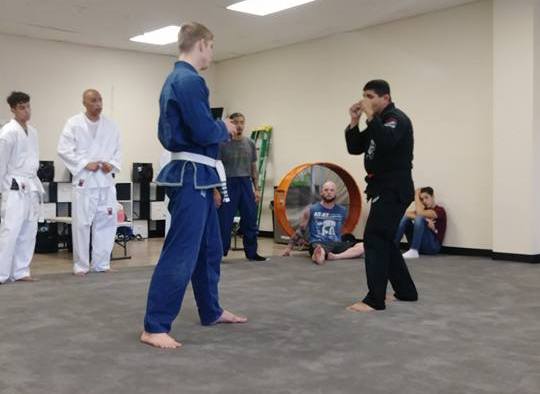 After just a few classes, you can enjoy:
Sustainable fat burn and weight loss
Lean muscle toning and strength gains
Boosted cardiovascular health
Improved speed, agility, and athleticism
See It For Yourself - Our Brazilian Jiu Jitsu Classes In Hesperia Are Completely Free Of Charge
Join us at Foo Dogs Martial Arts Academy and take on the best Brazilian Jiu Jitsu Classes in town. Our BJJ program is great for young kids and adults alike.
Just fill out the short form on your screen to learn more about everything we have to offer in Hesperia!